Ok, you're in a relationship and you don't want to be in it anymore, and you're ready to tell your soon-to-be ex that it's over. In an ideal situation, you don't think the person is a jerk. But you may believe that. The point is that you've come to the conclusion that it can't be done anymore.
Here's how to proceed to break up as nicely as possible.
I went through two nasty breakups : one sad, but also kind of tender, and one downright disastrous. Unfortunately, both led to drama and a lot of depressing sex for me to feel desirable after.
Unfortunately, the truth is that there are always at least two people involved in a breakup and they are not equal. If you are the one who initiates the breakup, you clearly have more power in this relationship. A power you may or may not be aware of. So don't be rude.
DO NOT INFORM THE WHOLE TOWN
If you've already told more than three people that you want to break up, it's time to do it. Don't announce to the whole town that you want to leave the relationship before you tell your partner. It sucks to be the last person to find out. You risk finding out from someone else and getting even uglier.
DOES NOT DO GHOSTING
If you've only dated someone a few times and there was no connection, yes, ghosting can happen and you can only hope that the person will get over it pretty easily. But if it's been a month since you've been seeing each other, or if you're in a long-term relationship, you obviously need to talk about it, whether you send her a sympathetic text or see each other face to face.
If you want to have a long-term relationship in the future, you need to get used to such confrontations. You'll never handle long-term relationships if you can't handle short ones and you can't communicate to a person that you no longer want to be in a relationship with them.
YOUR PARTNER IS NOT A DYING DOG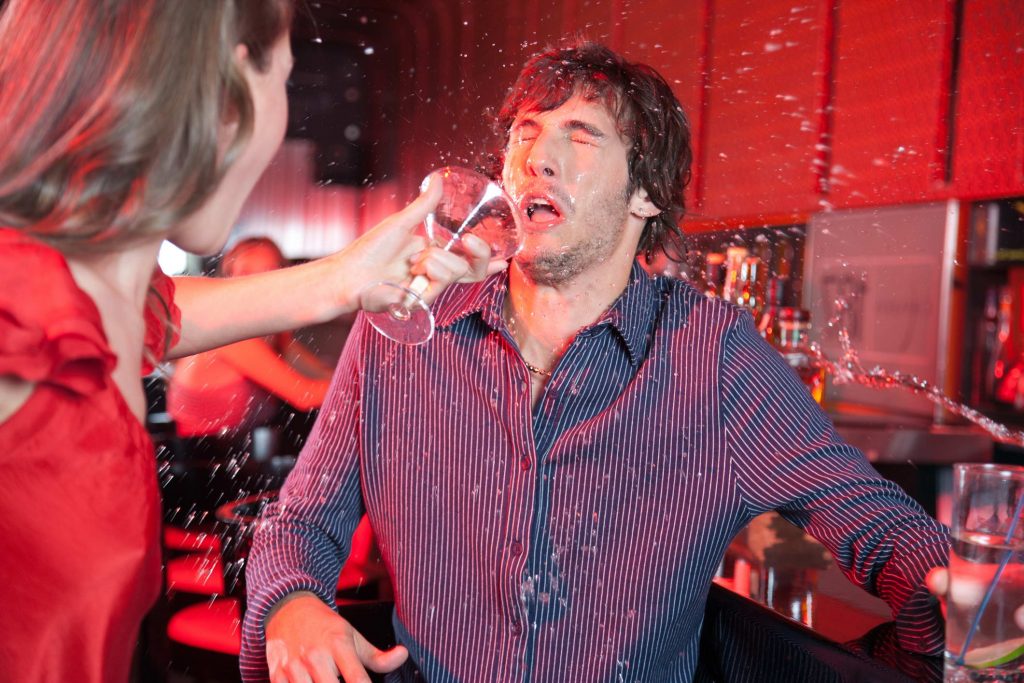 Don't try to make a nice gesture before the breakup just because you feel guilty. It's not like you have a dying dog that you're taking out for a last walk before euthanasia. A romantic dinner or a walk on the beach may sound good in theory, but in reality it could make the breakup even more painful.
PUBLIC PLACES ARE NOT SUITABLE FOR INTIMATE CONVERSATIONS
Breakups are an intimate thing that should be between you and your ex, not everyone eating avocado toast at a coffee shop on Saturday morning.
Obviously, it also happens that you break up in public, unplanned, following a conflict. But if it's a planned breakup, choose a private place for it. It's a humiliating situation for the person you're breaking up with and uncomfortable for those who are forced to witness it. Let the people eat in peace.
Plus, you look like a jerk standing across from a crying person in a coffee shop. So at least think of yourself, if you don't think of others, and choose not to.
DON'T DO THIS DRUNK OR WHEN YOU'RE BROKEN
If you break up with someone when you're drunk or broke, chances are one or both of you will forget it happened. Or for things to take a dubious or violent turn. Or you both end up crying and not being able to work through the breakup.
So it's not worth the risk. I used to be with a guy who smoked a lot of weed, and after a few weeks of building up the courage, I called him over and told him I wanted to break up. A few days later, he came to me again and acted as if nothing had happened. He had no idea I had broken up with him. He had forgotten, actually. And then I had to break up with him again. It was horrible to start the whole conversation over.
HOW YOU CHOOSE YOUR WORDS MATTER
Be very transparent, don't let ambiguity creep into the conversation. Have the courage to say clearly: "I want to break up" or "I don't want to see each other anymore."
People can't read your mind, so it's up to you to make yourself understood as clearly as possible. If you say "I think we should break up", you are already leaving room for interpretation or contradiction. And that's how you lose the courage to follow through and find yourself in an unhappy relationship in your forties.
PREPARE YOUR REASONS IN ADVANCE
The most important thing you will hear will be "Why?" Your partner will really want to know your reasons for breaking up, so make sure you think about them beforehand. If you are vague, you will confuse and hurt the other person even more. Try to put your arguments in order and be as concise as possible.
BE DIRECT IF YOU'VE MADE MISTAKES
People often think that what you don't know doesn't hurt you, but in fact, the secret you think you're hiding is obvious to everyone but you half the time. Often, partners intuitively sense that something is wrong in the relationship, but they don't know why.
So if you have an important reason why you're breaking up, like you've already cheated on your partner or you're interested in someone else, tell your ex up front. When you say you're protecting someone in a situation like this, you're just being callous and insulting their intelligence. He's going to find out eventually anyway, so give him a chance to hate you for the right reasons.
YOU WILL PROBABLY WANT TO HAVE SEX WITH THE PERSON AGAIN. IT DOESN'T.
As tempting as it is to make love one last time, it's not a good idea. The movies of the last twenty years make us think that breakup sex is spectacular, because it's so intense. But actually, it's not like that in reality.
If you've already had the breakup talk, having sex puts you in a position of power. Be careful what you convey to your ex physically and emotionally, because they are probably in a more vulnerable and confusing situation than you.
Sex will only complicate the situation and might make you feel like shit.
YOU MIGHT WANT TO HAVE SEX WITH HIS/HER FRIENDS
Unless you're part of a circle where everyone sleeps with everyone, it's not okay to do that at all. It doesn't matter how hot a person is or how desperate you are for sex, it's really not worth becoming public enemy number one in a circle of friends. Especially if you still care about your ex, it's not okay to make fun of his feelings like that. You have enough people to have sex with, leave your friends alone.
DON'T TALK BAD ABOUT YOUR EX/EX
After the breakup, you may feel like gossiping about your ex, telling your friends about the mole on his ass or how he didn't shower. This sucks. It's one thing to talk about abusive situations when you need to vent or get advice, but it's another to share intimate things you talked about when you got along. Think how you'd feel if your ex also told you how you shit yourself drunk or hell knows what other vulnerable moment you wouldn't want anyone to know.
ALLOW TIME TO HEAL
After you've had the talk, it's best to take a break from communication (which you agree on), take some space, and allow yourself to heal.